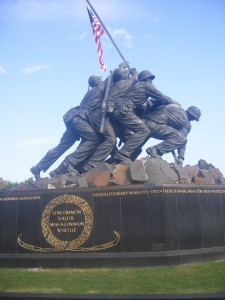 The inaugural Honor Flight took place in May of 2005, when six small planes flew out of Springfield, Ohio taking twelve World War II veterans on a visit to the memorial in Washington, DC. In August of 2005, an ever-expanding waiting list of veterans led our transition to commercial airline carriers with the goal of accommodating as many veterans as possible. Partnering with HonorAir in Hendersonville, North Carolina, we formed the "Honor Flight Network." Today, we continue working aggressively to expand our programs to other cities across the nation.
Bill Peak, a resident of Troy, NY and a World War II veteran himself, had a vision. He wanted to take Capital District Veterans in and around Albany, NY to Washington D.C. to visit the memorials. Leading up to the formation of Patriot Flight Inc. Bill worked tirelessly researching the costs and logistics associated with transporting World War II Veterans (many in their 80s and 90s already) to Washington D.C. After looking into charter buses, hotels and other forms of transportation, he came to the realization that there had to be another more feasible way. He continued his research.
In early 2007, "My daughter, Bett Daloia, who lives in Webster, NY, saw a TV clip about an organization in Springfield, Ohio that was flying veterans to DC free of charge. She was able to record the clip on Good Morning America on a Sunday morning ad she sent the tape to me.
I then contacted Earl Morse of the Honor Flight Network, Inc, in Springfield. I decided that was what I wanted to do. Earl walked me through all the in and outs of organizing a drive to inform veterans in Rensselaer County and surrounding area of the plan and to start a fund-raising drive. One of my friends arranged for an interview with our local newspaper, The Record, of Troy, NY and from that news article a local TV station, WRGB of Schenectady, interviewed me and the clip was on the 11:00 PM and 5:30 PM news. When the word started to spread, I organized a board of dedicated people to help and the fund-raising effort was underway." –Founder, Bill Peak
The first Patriot Flight day trip from Albany, NY took place April 26, 2008. There were approximately 30 World War II Veterans and Guardians on board the Southwest Flight to Baltimore MD. From BWI, the Veterans were met by a deluxe motor coach which transported them to Washington D.C. where they were given the opportunity to visit, explore, and reflect upon the memorials.
Each Veteran's flight was provided at no cost to the Veteran (due to generous donations and fundraising efforts on behalf of Patriot Flight Inc.), while Guardians paid a nominal fee to cover their own expenses. The Veterans were given collared shirts, backpacks, ponchos, lunch and dinner in Baltimore (all of which were free of charge) before they returned home to Albany International Airport where they received a warm welcome home. It was an emotional moment for those veterans who embarked on the inaugural flight, as most of them had never received a "welcome home" when they came back from the war. The welcome home continues today to be an emotional culmination to the end of each successful flight.
That first year, in 2008, Patriot Flight Inc. hosted three additional flights, in May, September and October with approximately 96 and 56 World War II Veterans on the two latter flights. Flights continued through 2009, 2010, 2011 and 2012. With each flight, Patriot Flight Inc. continued to grow and continued to offer a much deserved and long overdue "thank you" to the Veterans of our Greatest Generation.