WE ARE ALWAYS LOOKING FOR THE NEXT GREAT OPPORTUNITY!
CONTACT US TODAY WITH YOUR FUND RAISING ACTIVITIES
Christmas Ornament Fundraiser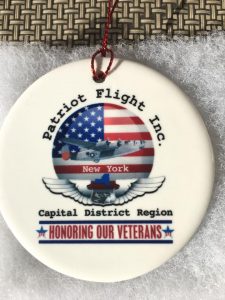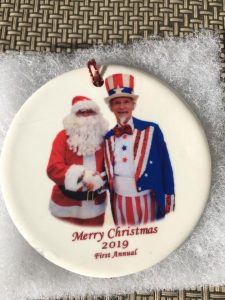 Each Ornament (2 sided) is $10.00
Both Uncle Sam & Santa are Veterans
Supplies still available
Call Now
*************************************************************************************************************
Would you or your organization like to honor a vet but don't have the money to do so? Why not hold a fundraiser! We can help you make your Honor-A-Vet fundraiser a success!!! Let us know what type of event you are planning and we'll help get the word out. If you need fundraiser ideas, let us know. We have a list of easy ideas to help you find the right one for your organization. Contact us to register your event. Once the event has been registered, it will be add to the Patriot Flight website.
Honor-A-
Vet
The Honor-A-Vet program allows individuals, businesses, service groups, and families the opportunity of honoring one Veteran to participate in the Patriot Flight, Inc. project.
The estimated cost to send one veteran to visit the memorial is $350. Your contribution of $350, either by individual donation or an event that raises $350, is eligible to participate in the Honor-A-Vet program.
To date, we have flown 171 Veterans aboard our Partiot Flight missions. These flights were made possible through generious donations.  THANK YOU!