Capital District Patriot Flight
Respect, Honor & Memories – A Trip of a Lifetime
Flying to DC is our Mission, honoring the Veterans is our Passion.
Hello,
The national HFN Board of Directors met last evening and discussed the remainder of the season and implications of COVID-19 on such future trips (this was pushed up from the original date of July 8).  Updates on Honor Flight travel and events are as follows:
·        2020 Trip Suspension.  The national Board has extended the suspension of all Honor Flight travel through the remainder of calendar year 2020.  Please note that this mandate includes trips of all sizes, destination and duration.  Failure to abide by the trip suspension mandate will result in immediate and irrevocable discharge of the Hub from the Honor Flight Network.
·        Local Events/Fundraisers.  As has been previously communicated, as of June 1, 2020, Hubs may have local events and fundraisers as long as such events/fundraisers comply with all applicable federal, state, and local regulations in place at the time of the event.  If you do not know what the current mandates are at the time of your planned event, please reach out to an attorney in your state to assist you in determining whether your event will fall within the legal criteria of the mandates as of that time.  Hubs are encouraged to use extreme caution in hosting events and ensure that all event participants are complying at all times with the applicable regulations in your area (i.e. social distancing, masks, etc.).
·        Southwest Group Reservations.  If you have a group reservation with Southwest Airlines that is impacted by the extended suspension and you have not already received a refund for that flight, please send me your flight date(s), confirmation number(s), and POC contact info and I will prepare one last round of refund requests for SWA.  This is for flights that were scheduled between September 1 – December 31, 2020, for which you have already paid a deposit.  Please DO NOT send me your flight information if you have already received a refund in any form for a flight during this final time period.
On behalf of the staff at the national office, as well as the Board of Directors, I can say that this decision was incredibly difficult (as many of the Hubs that have made this decision earlier in the year can attest).  This is probably the most difficult email I have had to write in the nearly two years I have been on the staff here at HFN.  That being said, the safety of our veterans has always been and will continue to be the number one priority of the Honor Flight Network.  Our veterans are among the most vulnerable of the population as it relates to serious complications and death from COVID-19 and, as a result of this, it is just not prudent for Honor Flight to risk the health and safety of those we seek to honor at this juncture.
The national staff will continue to be available to assist Hubs in any way we can or answer any questions you may have.  We look forward to resuming flights with you all again in 2021.
Thank you,
Meredith
Meredith Rosenbeck, CEO
Honor Flight Network
4601 North Fairfax Drive Suite 1200
Arlington, Virginia 22203
Phone: 937-521-2400
Cell: 614-852-2791
Fax: 937-265-6030
Patriot Flight Inc., is the recognized Capital Region Chapter of the National Honor Flight Network serving  7 counties in NY including Albany, Rensselaer, Schenectady, Saratoga, Greene, Washington, and Columbia Counties
MISSION FAQ's
Under Construction stay tuned
NEXT MISSION: SPRING 2021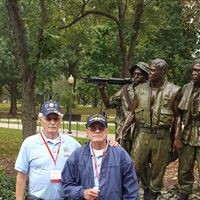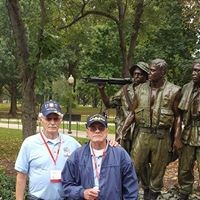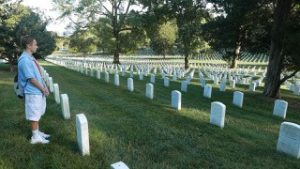 Veterans & Guardians receive a memorable Send Off Ceremony to start the day. They receive a Patriot Flight Shirt, a one hour flight to Baltimore, bus ride, name tags, lunch, dinner, and snacks.   To remember and conclude the day, the Veterans receive a special gift at the Airport when they return.
The day's itinerary includes visits to the War Memorials and the Tomb of the Unknown Soldier.
We document your trip; offer a safe, memorable experience, medical personnel available.
Application Procedures
Veteran and Guardian Applications are required and available on our Applications page @  Patriotflight.org
Mail applications to Patriot Flight, PO Box 13776
Albany, NY  12212-3776  or scan to emails below.
Contact – Bruce 518-795-0665 bmendini@yahoo.com;
Eligible Veterans – Any Active Duty Veteran from WW II through Vietnam (May 1975)
Veterans & Guardians are notified by email and/or phone 4-5 weeks prior to the Flight date. Please
complete an application as soon as possible, the flight log fills up quick.
Veterans & Guardians – Flight Protocols
We encourage Veteran family members or friends to apply as their Guardian. If a spouse is capable of fully assisting the Veteran (including pushing a wheel chair then spouses are considered). We will take two Widows of Veterans using age and lottery as the criteria. (Widows go as a Veteran at no cost)
The Veteran's trip is free of charge. Guardians fee of $380.00 (paid in advance, refundable).
Veterans who have been on a previous Flight are not allowed. However, we allow WW II Veterans who have not taken a trip in 2 years to attend a second time.  The WW II Veterans will pay a half fee ($190).
Veterans are not required to provide Guardians. We do have guardians for companionship and to keep the Veteran on schedule for the day. In some cases there maybe two Veterans to one Guardian.
Guardians may submit an application individually without being associated with a Veteran. All applications are kept for future flights.
Guardian selections are the sole responsibility of Patriot Flight.
Volunteers and Donations are Appreciated, Thank You
If you have fund raising events, please let us know. We support those who support us.
We have large number of contacts via email, Web and Capital District Patriot Flight Facebook.
Donations appreciated. Payable to Patriot Flight, Inc,  PO Box 13776
Albany, NY 12212-3776.
Patriot Flight Inc. is all volunteer and a Federal Non Profit Corporation, 501(c) (3).  Thank You
Volunteers are always Welcome
Help us raise funds to honor and give our Veterans on the Trip of a Lifetime.
If you have fund raising events, we support those who support us
We have large number of contacts via email, web and facebook
How You Can Help
Please send donations and make check payable Patriot Flight, Inc,

PO Box 13776 Albany, NY 12212-3776

Patriot Flight Inc. is a Federal Non Profit Corporation, 501(c) (3).

www. Patriotflight.org  bdmendini@yahoo.com
Social Media Coordinator: Sean S. Lyons: lyonssean@ymail.com