Capital District Patriot Flight
Respect, Honor & Memories – A Trip of a Lifetime
Flying to DC is our Mission, honoring the Veterans is our Passion.
Patriot Flight Inc., is the recognized Capital Region Chapter of the National Honor Flight Network serving  7 counties in NY including Albany, Rensselaer, Schenectady, Saratoga, Greene, Washington, and Columbia Counties
MISSION FAQ's
WHAT DO WE WEAR? April and October missions can be both chilly and warm, We will provide shirts, hats, jackets and umbrellas if needed
WHAT HAPPENS ON THE ONE DAY HONOR FLIGHT? Typical Mission Agenda
0400 – Meet Colonie Center, Board CDTA busses to Albany Airport
0430 – 0455 Sendoff Ceremony Albany Airport (family encouraged to attend)
0455 – 0515 TSA Check in
0515 – 0530 Coffee and pastries at the Gate while we wait to board.
0530 Board Airplane to Baltimore
0545 Takeoff 0700 Land BW 0800 1630 – In DC we visit the memorials of WWII, Korean, Vietnam Wars, The 911 Memorial, Lincoln Memorial, Air Force Memorial, Marine Corp Memorial, and the Changing of the Guard at Arlington along with a wreath laying ceremony. Lunch is delivered to us at the Korean war memorial
1700 – 1830  Dinner at Golden Corral for dinner (Both meals included)
1900-2130 Mail Call at BWI
2200 – Takeoff for Albany
2315 – Returning to Albany with a bus ride back to your vehicles at Colonie Center. (vehicles are safe and watched over by Colonie Police)
NEXT MISSION: April 231 2023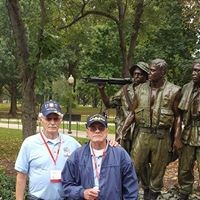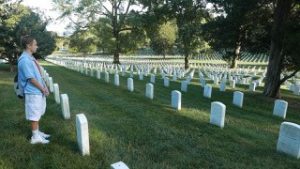 Veterans & Guardians receive a memorable Send Off Ceremony to start the day. They receive a Patriot Flight Shirt, a one hour flight to Baltimore, bus ride, name tags, lunch, dinner, and snacks.   To remember and conclude the day, the Veterans receive a special gift at the Airport when they return.
The day's itinerary includes visits to the War Memorials and the Tomb of the Unknown Soldier.
We document your trip; offer a safe, memorable experience, medical personnel available.
Application Procedures
Veteran and Guardian Applications are required and available on our Applications page @  Patriotflight.org
Mail applications to Patriot Flight, PO Box 13776
Albany, NY  12212-3776  or scan to emails below.
Contact – Sean 518-391-3448 lyonssean@ymail.com
Eligible Veterans – Any Active Duty Veteran from WW II through Vietnam (May 1975)
Veterans & Guardians are notified by email and/or phone 4-5 weeks prior to the Flight date. Please
complete an application as soon as possible, the flight log fills up quick.
Veterans & Guardians – Flight Protocols
We encourage Veteran family members or friends to apply as their Guardian. If a spouse is capable of fully assisting the Veteran (including pushing a wheel chair then spouses are considered). We will take two Widows of Veterans using age and lottery as the criteria. (Widows go as a Veteran at no cost)
The Veteran's trip is free of charge. Guardians fee of $450.00 (paid in advance, refundable).
Veterans for Second Flights
Veterans who have been on a previous flight are allowed under the following circumstances:
WWII Veterans are allowed second flight. Highest Priority (This is due to the obvious age and lowering numbers of living WWII heroes. No Fee
Korean War veterans are allowed a second flight. Second Highest Priority (This is due to the incredible improvements to their memorial and a chance for them to find their buddies names on their wall) No Fee
Any veteran from and war over 90, and or diagnosed with terminal illness may return to their memorial. Highest Priority No Fee
Any Veteran who wishes to return may due so as a Veteran/Guardian (providing they can meet the criteria for guardian) Hub policies do allow for solicitation of veterans after they have taken their initial trip. $225.
Veterans are not required to provide Guardians. We do have guardians for companionship and to keep the Veteran on schedule for the day. In some cases there maybe two Veterans to one Guardian.
Guardians may submit an application individually without being associated with a Veteran. All applications are kept for future flights.
Guardian selections are the sole responsibility of Patriot Flight.
Volunteers and Donations are Appreciated, Thank You
If you have fund raising events, please let us know. We support those who support us.
We have large number of contacts via email, Web and Capital District Patriot Flight Facebook.
Donations appreciated. Payable to Patriot Flight, Inc,  PO Box 13776
Albany, NY 12212-3776.
Patriot Flight Inc. is all volunteer and a Federal Non Profit Corporation, 501(c) (3).  Thank You
Volunteers are always Welcome
Help us raise funds to honor and give our Veterans on the Trip of a Lifetime.
If you have fund raising events, we support those who support us
We have large number of contacts via email, web and facebook
How You Can Help
Please send donations and make check payable Patriot Flight, Inc,

PO Box 13776 Albany, NY 12212-3776

Patriot Flight Inc. is a Federal Non Profit Corporation, 501(c) (3).

www. Patriotflight.org
President: Sean S. Lyons: lyonssean@ymail.com